HELP WANTED! We are hosting Junior High and High School Volleyball on 9/30/21. We are in need of line judges and table workers. Please contact Coach Schartz or Jordan Siek if you are able to help this night. Thank you!
The school was notified at 6:10 pm by the Gray County Sheriff's office of an attempted abduction near the Elementary School. This was during a JH football game. It is critically important to understand that no children were taken and no children were harmed. The school was asked to review camera footage to see if the incident was real and a description of the vehicle and or suspects. The vehicle described by the 3 Elementary girls was a dark green minivan/ SUV. The school reviewed the footage and could see all three girls walking in the grass at the circle drive. (17:36:24 military time) The school saw an image of a dark color SUV turning North on 2nd street from Santa Fe Ave. The vehicle stopped in the street, then appeared to drive off. Due to the view from the parking lot, a high-resolution image was not available. The subject was described as a male (no age) with sunglasses, no other descriptors were given. He motioned for the girls to come and get in his vehicle. The girls did not approach the vehicle and ran away. The Gray County Sheriff's office continued patrolling the area and at this time the subject is still at large. If you or anyone you know has information about this situation, please contact the Gray County Sheriff's Office. Thank you!
Here is a look at the upcoming week! 31 AUG, TUE 3 – 9pm JV G. Tennis @ Home 5 – 6pm V Volleyball @ Home 2 SEP, THU 3 – 11pm V G. Golf @ Hugoton 3 – 9pm JV G. Tennis @ Scott City 4 – 5pm JH Football @ Colby Colby Middle School, 750 W 3rd St, Colby, KS 67701, USA 4 – 5pm JH Volleyball @ Scott City W/ Goodland Scott City Middle School 5 – 6pm V Volleyball @ South Gray W/ Ingalls 7 – 8pm 5th Grade Instrument Display 3 SEP, FRI 7 – 8pm V Football @ Holcomb 4 SEP, SAT 9 – 11am XC @ TMP 9 – 10am V G. Tennis @ Colby 6 SEP, MON All day No School Labor Day
Tonights football jamboree in Dodge City kicks off at 6PM starting with junior varisty.
Our JV tennis girls headed to Dodge City for their opening tennis meet on Thursday the 26th of Aug. The young ladies did well - out of 10 teams competing Cimarron placed 3rd as a team with individual medal earners as follows: Angel Myers 1st in #2 singles, Mariana Mendoza & Nayely Urrutia 1st in #1 Doubles, and Keiry Holguin & Zoey Jantz were 3rd in #2 doubles. Our next jv meet will be Tuesday Aug 31 at home - come support the lady BlueJays! On Thursday Aug 26 our varsity girls tennis team hosted their invitational with the following schools attending - Hays, Liberal, South Central, St. John, Tribune, and Ulysses. Overall our team took 2nd place with a total of 37 points, falling behind Liberal with 42 points. Third place went to Tribune with 36 points. Individual medal earners from Cimarron were Emily Goetz 2nd #1 singles, Faith Heath 2nd #2 singles, Dani Kugler & Abby Osborn 2nd #1 Doubles, and Keira Buchholz & Amanda Housman 3rd in #2 doubles. It was a great start to what will be a fantastic season!
Calling all blue jays fans! Come out tomorrow morning and enjoy some football and volleyball and cheer on the blue jays!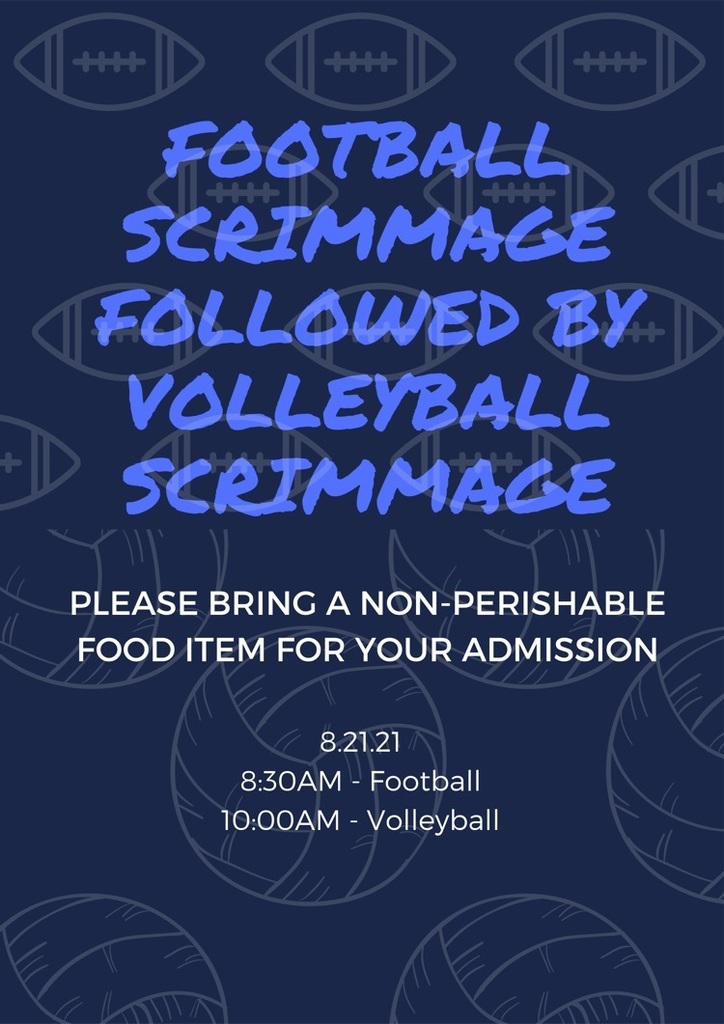 There is an all sports meeting tonight at 7PM followed by a fall sports meeting. Students and parents please try and attend! Grab some watermelon after to enjoy!
Here is the menu for August!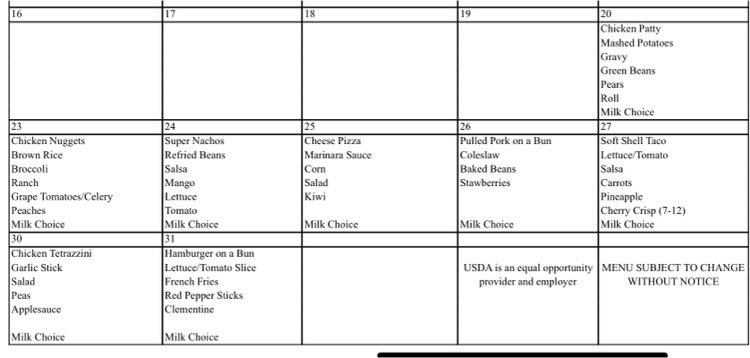 We are now going to be using the "offer" option at lunch starting tomorrow for the junior high and 4th-6th at the elementary. What is the offer option? Offer increases your choice in student meals. Every lunch is planned to include all five food groups: 1. Fruit 2. Vegetable 3. Protein 4. Grains 5. Milk The food groups for each meal will be posted at the beginning of each serving line. You are encouraged to take all the foods offered; however, you may decline up to two (2) food groups. Whether you take 3, 4, or 5 of the food groups, the meal is the same price. Offer allows you to build a healthy meal by selecting 3 to 5 different food groups. One of those food groups must be fruits, vegetables or a combination of both. STEP 1: Choose ½ cup of fruits, vegetables or a combination of both. STEP 2: Choose 2 or more of the following: • Full Serving of Fruit – K-8 (1/2 cup) and 9-12 (1 cup) • Full Serving of Vegetables – K-8 (3/4 cup) and 9-12 (1 cup) • Grains • Protein • Milk Example Menu: Hamburger on a Bun (protein and grains) Broccoli (vegetable) Grapes (fruit) Milk (milk) You can take all five food items (hamburger, bun, broccoli, grapes and milk) OR STEP 1: Choose ½ cup of broccoli or ½ cup grapes or ¼ cup each broccoli and grapes STEP 2: Choose 2, 3 or 4 full servings of different food groups: • Hamburger on Bun (protein, grains) or • Full serving of Grapes and Milk (fruit and milk) or • Hamburger on Bun and Milk (protein, grains, milk) or • Hamburger on Bun, Broccoli and Milk (protein, grains, vegetable, milk) The choice is up to you; just be sure to choose the ½ cup fruit or vegetable and 2, 3, or 4 full servings from the 5 food groups. Check the menu daily so you will know which items in the school lunch you want to eat. School meals meet federal nutrition standards and give you the fuel you need to stay healthy and active.
It's going to be a beautiful night for a glow rally!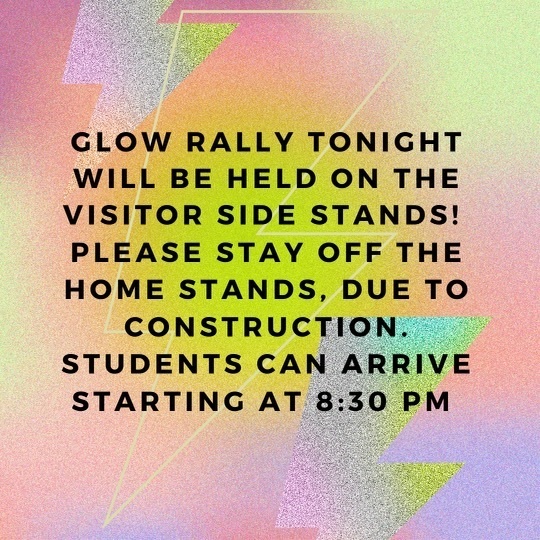 Don't forget! Tonight is Open House at CES starting at 6:30. The GLOW RALLY is also tonight starting at 9! We hope to see everyone there!
Tonight is student and parent orientation night! 6pm - 7th Graders 7pm - 8th-12th Graders
Come and join us for some FUN! This Thursday night!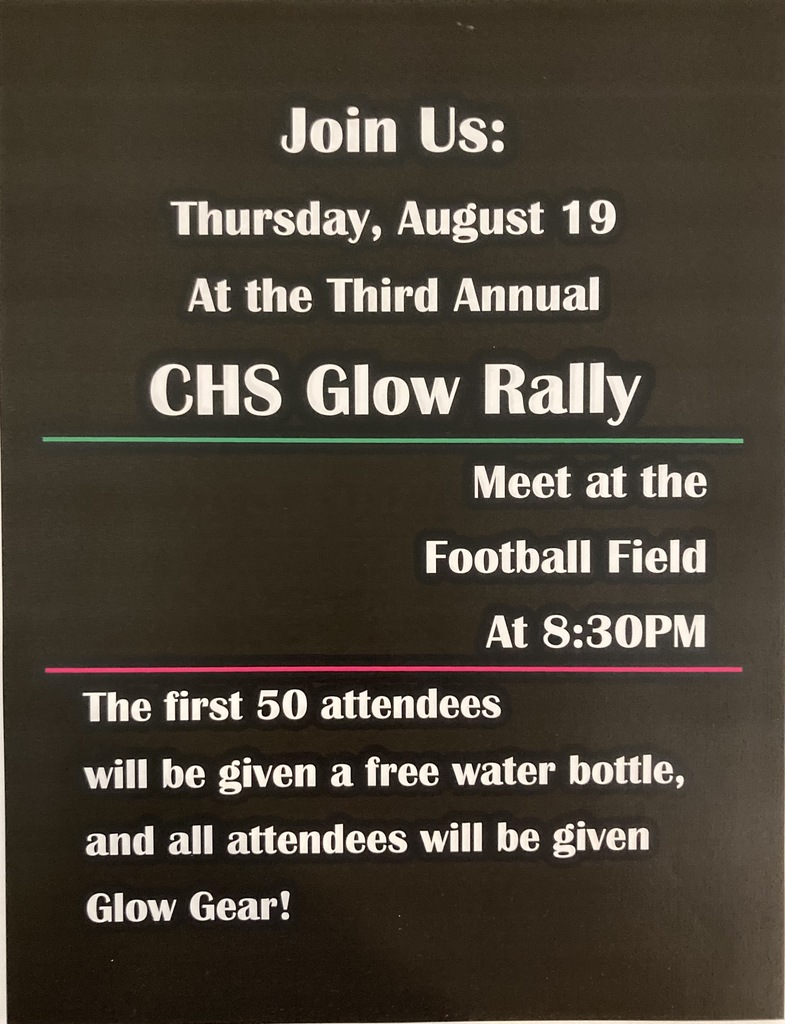 August 20th: All Parent Activities Meeting 7:00-9:00. This will include the fall sports parent meeting but all parents of students who will participate in any activities this year needs to attend the first part.
CJH/CHS Parent Night Information: August 17th : 7th Grade Students - 6:00-7:00 8th - 12th Grade Students - 7:00-8:00 We will start in the auditorium sharing new information pertinent to this school year. Then students and parents will attend each of their classes for 5 minutes.
CJH/CHS Enrollment Dates: August 10th: Noon - 7:00 August 11th: 8:00 - 1:30 August 12th: New Students 8:00-12:00